What are the obligations of Godparents?
18 Jan 2022
Are you going to be godparents?
Congratulations!!!!!!!!!!!!
Some details regarding the Christening what the godparents should provide for the mystery.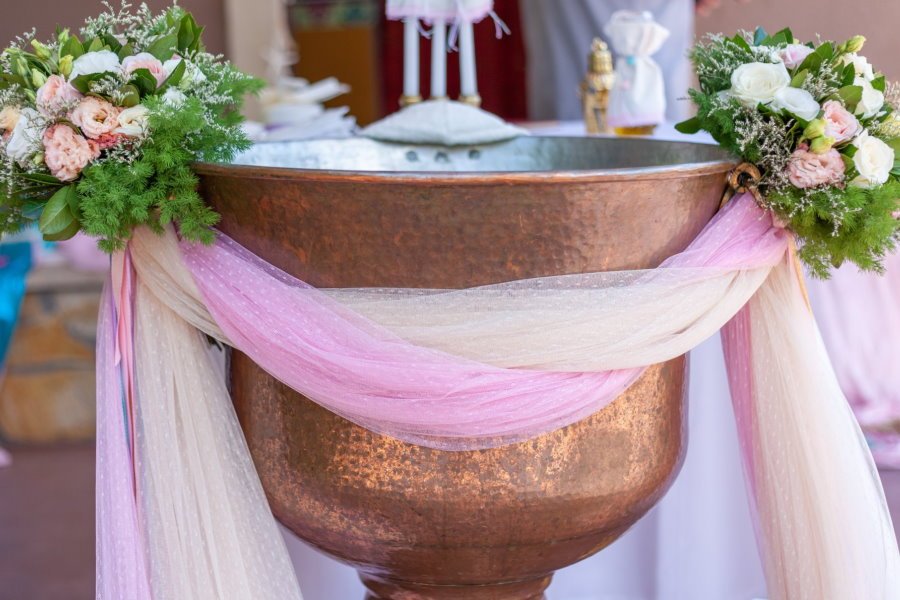 What could be more beautiful than the development of a strong friendship  into a family bond?  Our child's godparents become our relatives and this bond must be so tight that nothing could break it.
However, in real life things are not always ideal, so both sides should realize that, even if clouds appear, this precious relationship should be guarded and maintained intact, for the sake of our child.
From a religious aspect, our child's godparents are their spiritual parents and that does not only involve the bestowing of presents the child expects but it is, in essence, a real life - long relationship.
Let's have a look at what godparents have to provide for the mystery:
Cross
Garments for the christening (clothes, shoes, socks)
Oil Cloths (underwear, small sheet, cap)
Towels (a big and a small one)
Candle
Bottle with Oil, 3 small candles & soap
Witness pins
Christering box, small item of furniture or a suitcase to carry all the above
Payment of the church
You should have in mind that if the godparents have been married with a civil wedding, there are churches that will not allow them to perform the mystery.  The godparents will also need to have their original identification card with them.
Before the Christening, the Godparents should have visited their future godchild, so that the baby will not feel uncomfortable around them during the mystery.
According to tradition, after the mystery and for the following three Sundays, the baby will have to receive the holy communion accompanied by the godparents.  The candle should be taken to church and be lit up during the communion.  On the last Sunday it should reamain at church.
El Stories can provide you with a wide variety of quality clothes for your baby's christening and with heart-felt love we design especially for you the christening package of the theme and style you have always dremtt of!!  We use hand-made objects, painted with eco-friendly dyes that can not only decorate, but also be useful in the baby's room.  That is how the memories of this magnificent mystery will remain alive throughout the years.
Always be worthy!!!